The BibliU administration console provides a selection of useful features such as, usage analytics, COUNTER reports, role management and more.
Getting Set Up
First ensure that you can sign into https://bibliU.com. You can then contact the BibliU accounts team to request access or have your library admin set up your account using the Role Management dashboard. Once this has been completed, you can sign in with your regular BibliU credentials at https://bibliu.com/admin.
Dashboard: User Engagement (screen 1)

Top titles
Summary of the most read titles for the selected period
Total readers
Number of users who have logged in and operated a book
Total time reading
Total time spent by users in the reader
Reading time per user
Average reading time per active user per day
Logins per day
Total number of users active on the platform each day
Reading time by title
This summarises the total reading time (in hours) for each title in your plan.
Dashboard: User Engagement (screen 2)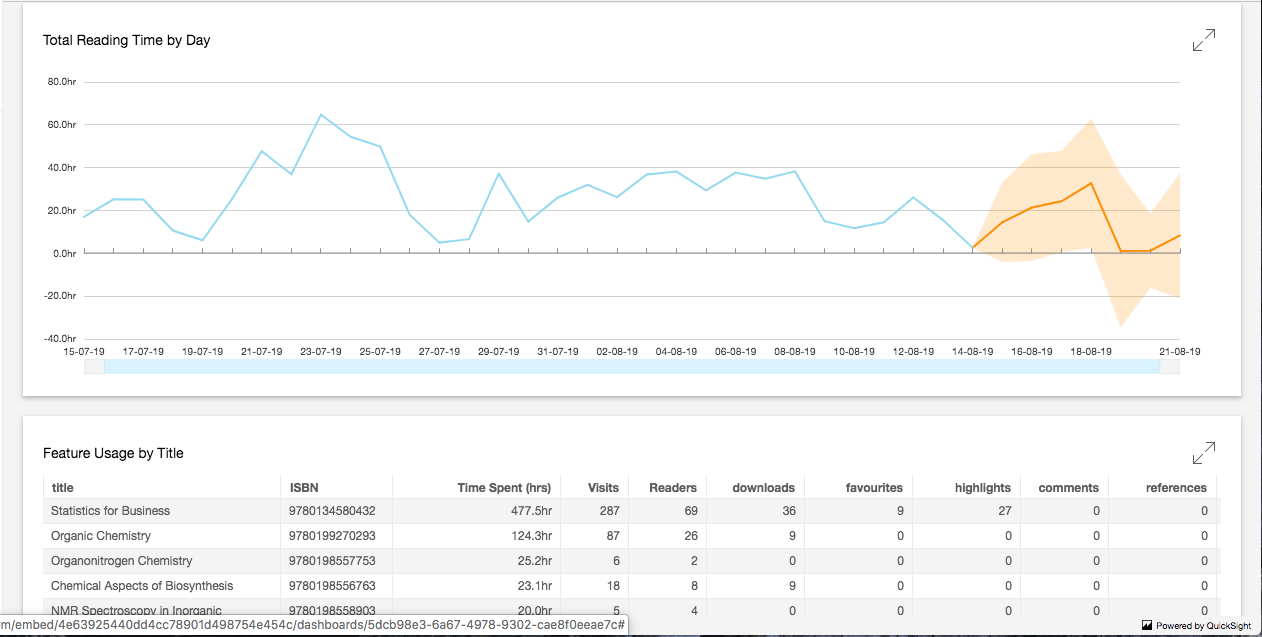 Total Reading Time by Day
Total reading time across all students by day, with a 7-day forecast for future usage
Feature Usage by Title
Summarises the use of features (such as favourites, downloads, and highlights) for each book, as well as high-level usage stats for the selected period
Data Export
Data export is available for all views on all dashboards, and will work for the selected date range (with no limits):
Full (anonymous) data for any view can be downloaded via the download button in the top right of each file

Data can be downloaded in the CSV format (compatible with Microsoft Excel, Google Sheets and, Numbers

This gives your library team full control over our enriched data sources, as well as COUNTER reports.
Data Export Button
Select any view and click the arrow in the top right, then select 'Export to CSV'.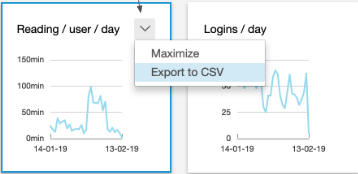 COUNTER Reports
COUNTER is a reporting standard used by libraries to understand the usage of books in a consistent format
BibliU provides you with on-demand COUNTER reports
Once signed into the BibliU Administration console, click on "COUNTER Reports" on the left hand side
Enter your required date range
Select the type of format you would like to download (BR2/PR1). Please note that it may take a short period of time (around 30 seconds) to generate your report
Role Management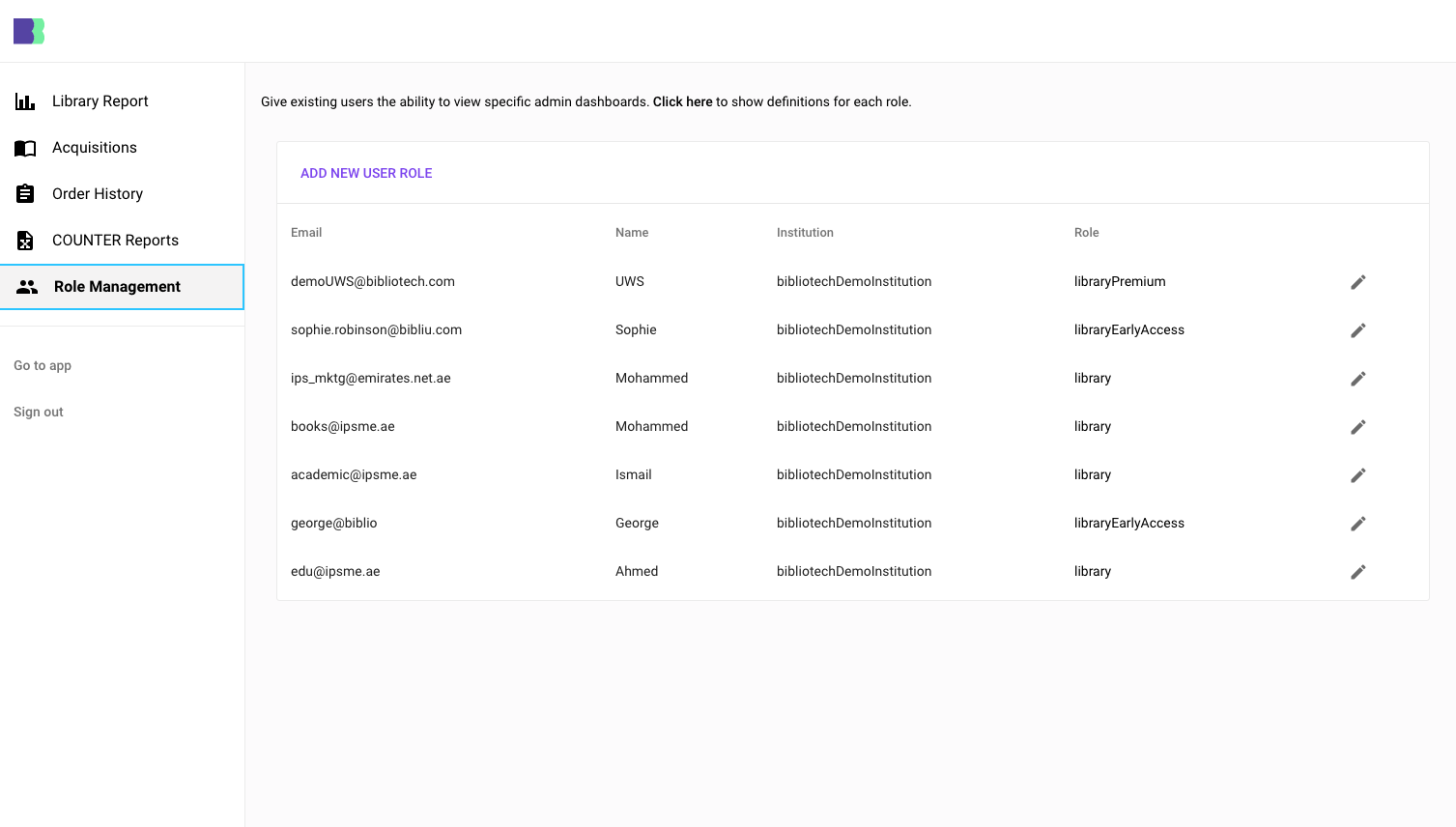 We have provided a Role Management dashboard for you to add, remove or modify roles within the Administration console.
Add New User Role
Enter the email address of the user and their role
Role Summary
This helper table will show you which dashboards are available to a particular role
Edit Existing Roles
You can select a different role, or remove a user's role
Please note that when adding a new user, they will need to have already signed into BibliU, and in some cases, your IT department may have anonymised all email addresses. In this case, BibliU will need to troubleshoot with you directly.
Please contact us at accounts@bibliu.education if you have queries regarding Role Management.
General Troubleshooting
Issue
Explanation
Resolution
When I said sign into the administration console, it says "Access Denied"
The account that you have signed into hasn't been set up for access

Please contact accounts@bibliu.education and provide the email associated with BibliU and the university's single sign-on.

This email will be displayed when logging into the BibliU platform and clicking the settings button (top right of screen)

The Usage Dashboard says "there was a problem displaying this chart"
This is usually a temporary issue with our analytics engine
Wait until tomorrow when we refresh your analytics, or contact us and we'll look into it straight away
I can't add a role for a user who already has an account with BibliU
Sometimes IT departments will anonymise email addresses so the email that you have entered is not that user's email address

1. You can have the user sign up to BibliU with their actual email (not using SSO) and add that account

2. You can put us in touch with your IT department and we will try to get the configuration adjusted to provide full email addresses.