Video Explainer
We have already explained how easy it is to download entire books for offline reading on our native apps, but sometimes you just want access to a specific chapter or a few pages, rather than the entire book itself. This is where our printing function comes in.
Unfortunately, Publishers have varying allowances on printing, and not every book can be printed. For more information see here:
Step 1: Find the page that you want to print in the book
Simply open the book and navigate to the page or section that you want to print
Step 2: Click on the print icon in the toolbar at the top of the screen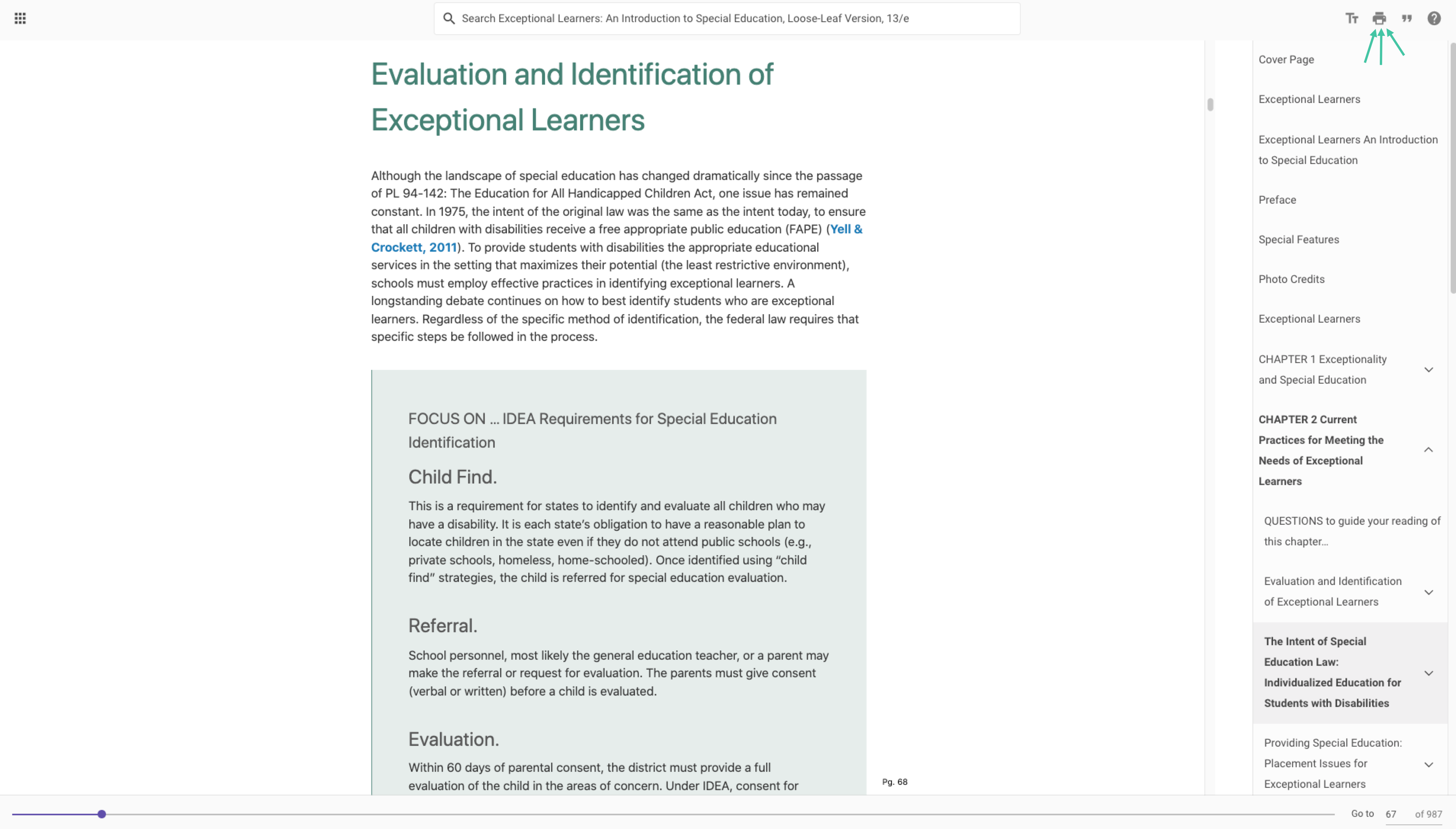 Step 3: Select how many pages you want to print
In the pop-up window you can now select whether you would like to print:
the current page that you are on; or
a selection of numbers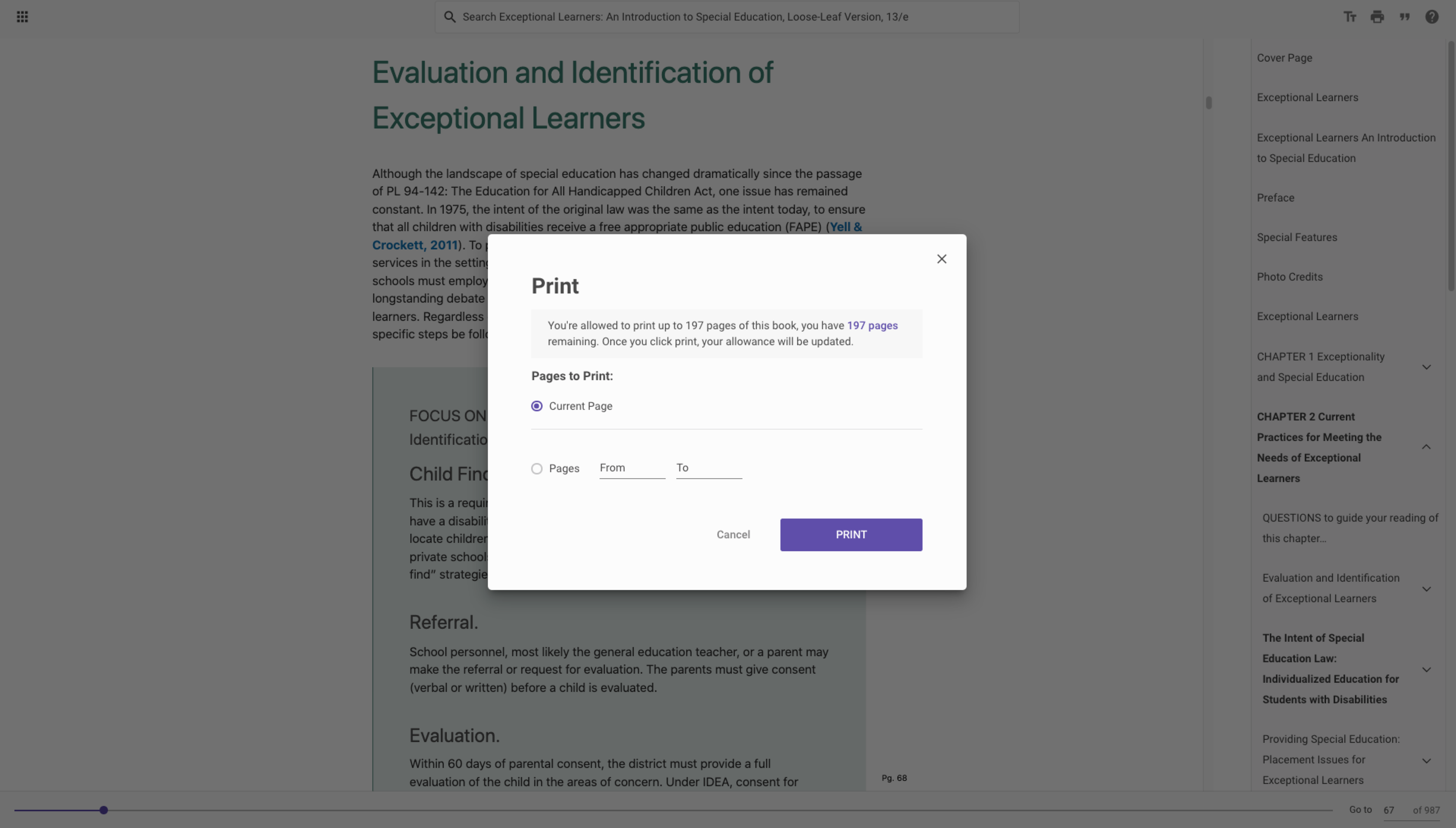 When you are ready to print, select the purple "PRINT" button.
Step 4: Wait for your pages to print
The pages which you have selected to print will now be converted into a PDF document for you to save onto your desktop.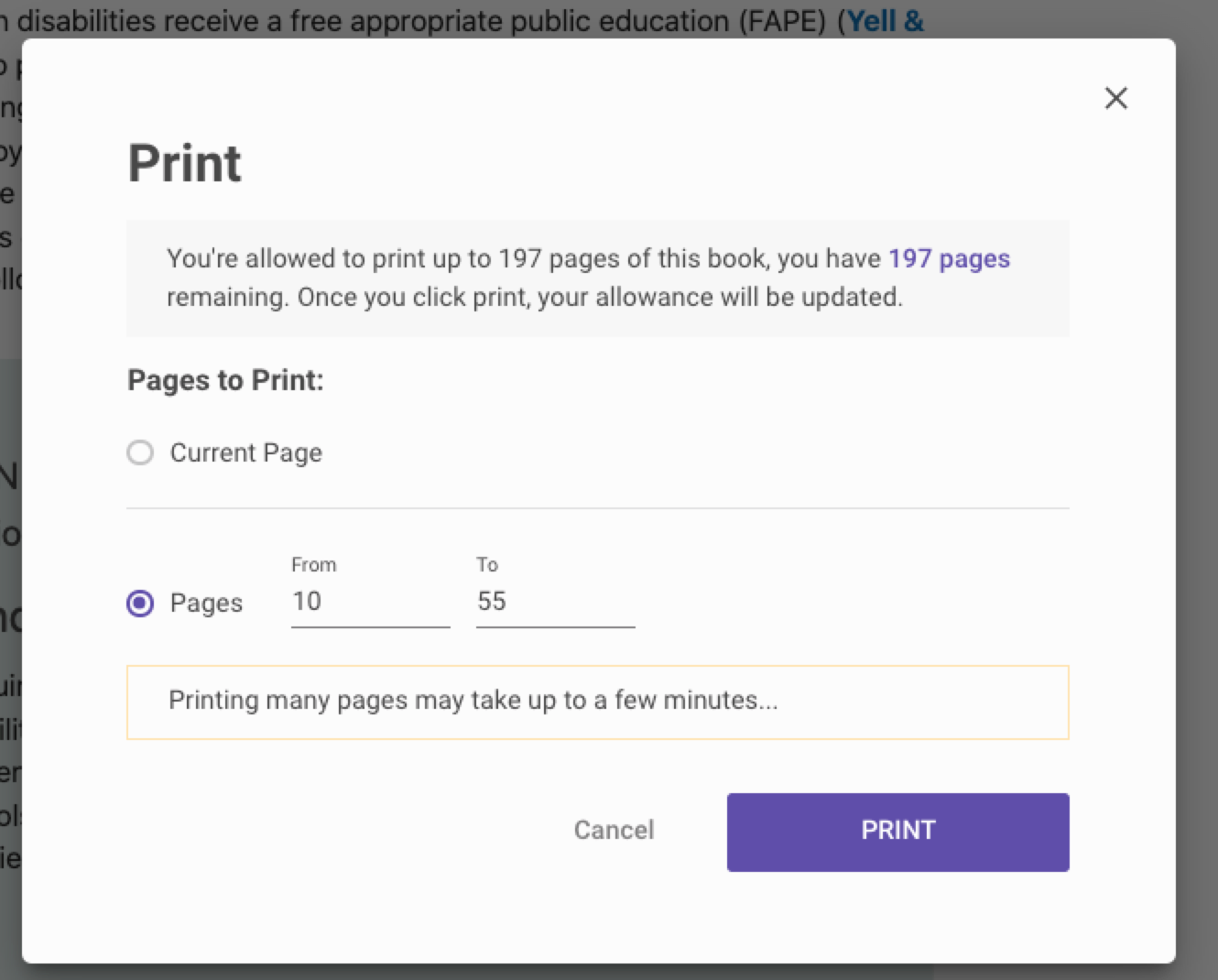 Depending on your internet connection and the number of pages that you have selected, the conversion to PDF may take a few minutes - so go get yourself some fresh air, or make yourself a coffee in the meantime.
Once the printing process is complete, the PDF will download onto your device.
Step 5: Send the file to print on your usual printer
Find and open the PDF file that you have just downloaded. Double-check that all the pages have been downloaded in the correct order and format.
Send the document to your usual printer!
Frequently Asked Question about Printing
Why is there no print icon in my book?
At BibliU we work closely with publishers and librarians to ensure that you get access to as many books as possible throughout your studies. This includes our commitment to honour the Digital Rights of all books as specified, by the author or publisher. In most cases, you will find that you will be able to copy, paste or print up to 9% of the contents of the book, in others slightly more or slightly less.
In a select few cases, the publishers and authors may have chosen not to give their permission top copy, paste or print their books. In this case, BibliU has removed the print icon from the toolbar for easy identification.
How do I know how many pages I can print?
At the top of the pop-up window is a small call-out box. This tells you exactly how many pages you have left in your print allowance as stipulated by publishers.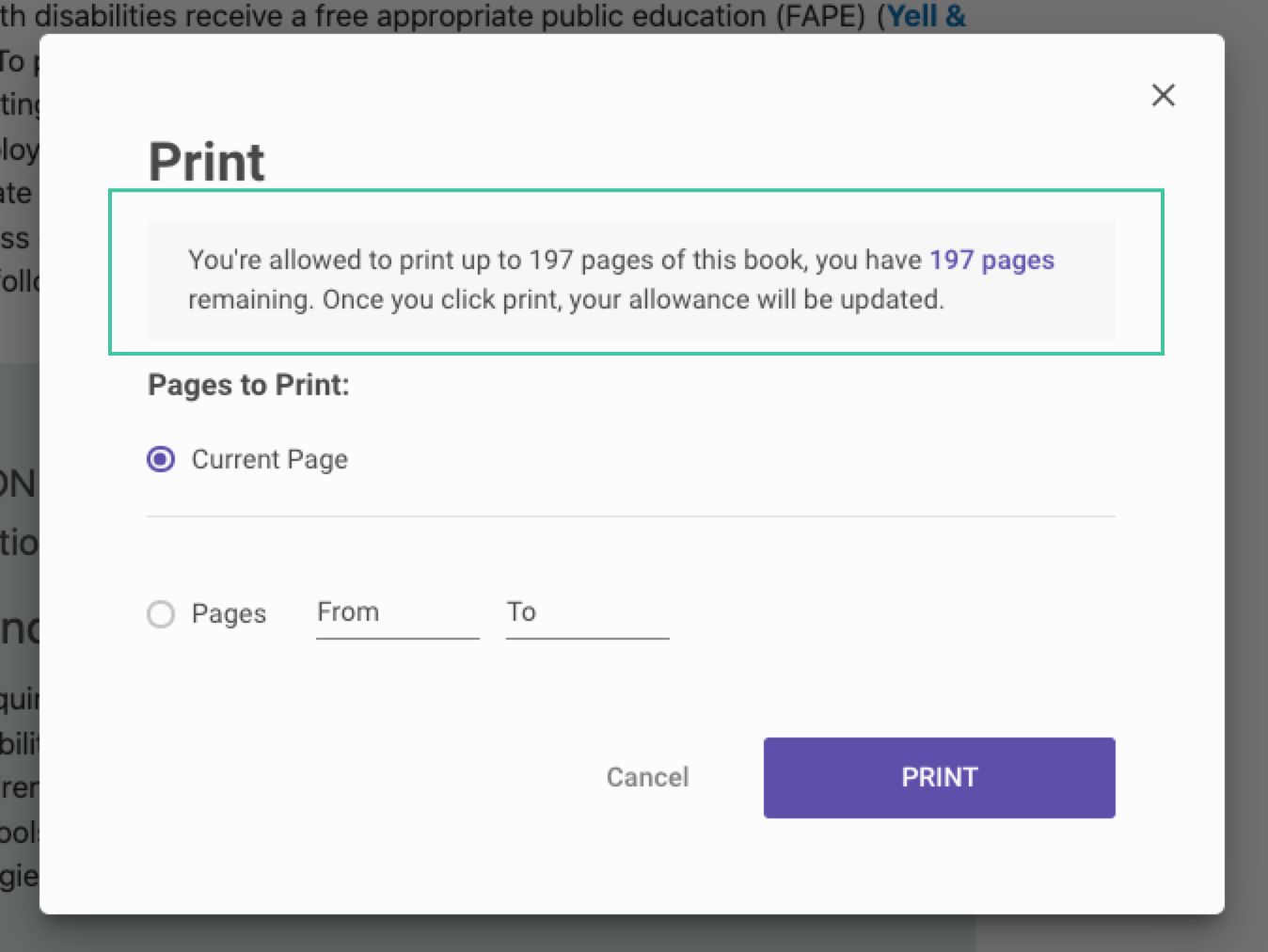 To make things easier for you we automatically track and update the number of pages left over for printing.
What if I don't have access to a printer?
Don't let something as trivial such as hardware stop you! By selecting the print icon you will still have access to the PDF version of the pages that you selected to print, for offline reading, or printing at a later date.
Escalating the Issue
If you are still having difficulties using our save-to-PDF feature, please contact us at support@bibliu.com and provide the following details so we can start investigating your concern:
your Unique Identifier in the app (For more information on how you can obtain this detail, please visit this Help Article: Sharing your Unique Identifier with Support

)

the complete title and author of the book/s with issue
a screenshot of your remaining print allowance for that book
a screen-recording video of the issue or screenshots of the error (if possible)