When working from a text online or in the app, it is possible to add comments and highlight passages. All highlights and comments synchronize completely between all devices so you never lose your notes.
How to Annotate Your text
Highlighting
Selecting text will automatically bring up the annotation menu. From here, you can add or remove highlighted sections in a selection of colors.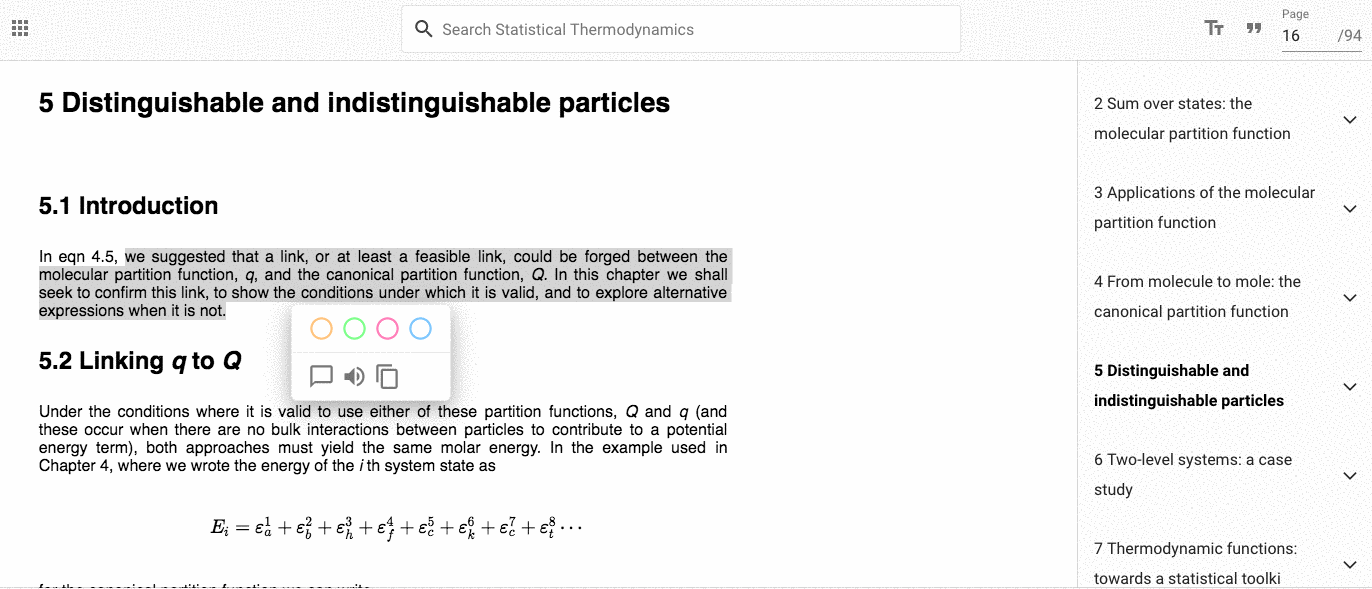 Adding Comments
By clicking on the speech bubble icon, you are able to write and save comments for the section of the text which you have selected.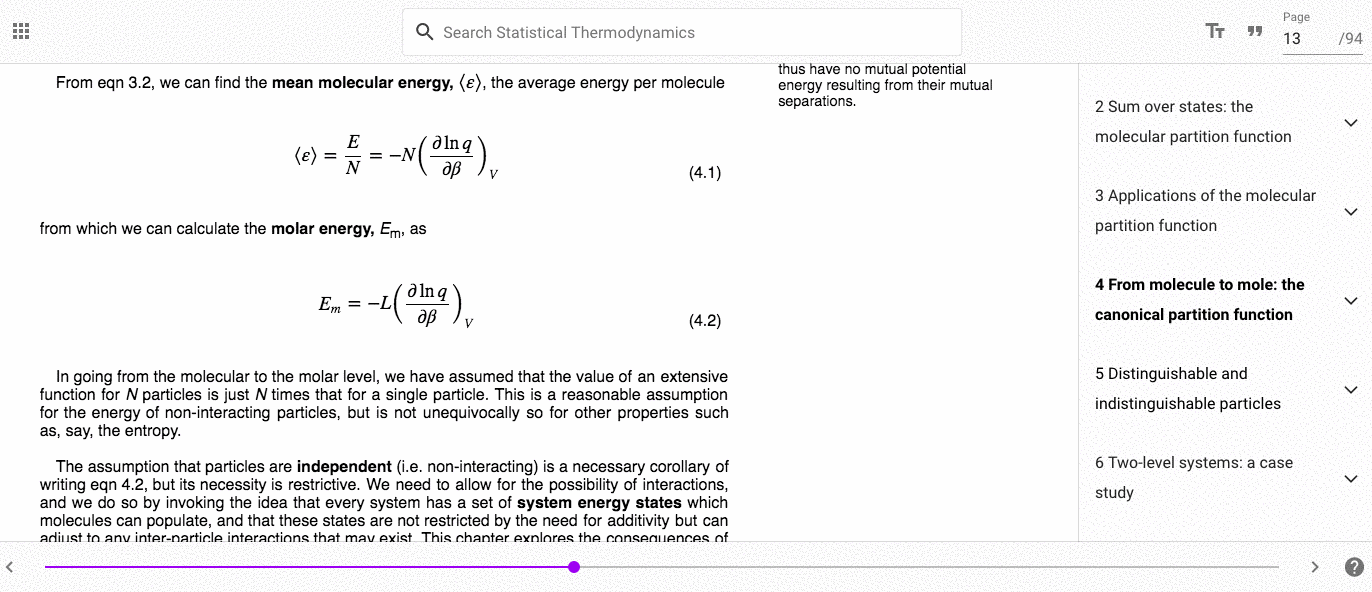 Once your comment has been saved, you will find a circle in the right hand column next to the test in the color that you have selected next to the text.
Clicking on this box, or the highlighted text itself will enable you to view, edit, and delete comments using the bin icon.
A word on highlights and comments : You will notice that every time you leave a comment it is associated with a highlight colour. This is to make comments more easily identifiable and traceable in the future. You can change the colour of the highlight to fit your note-taking system, but be warned: If you remove the highlight colour altogether, your comment will disappear too.
View, Search and Filter All Of Your Annotations In One List
To view all of the annotations (yes, that's highlights AND comments) that you have made in one list simply select the "Annotations" Icon in the toolbar (for a list of handy keyboard shortcuts click here). These will be listed, first chronologically by chapter, followed by newest.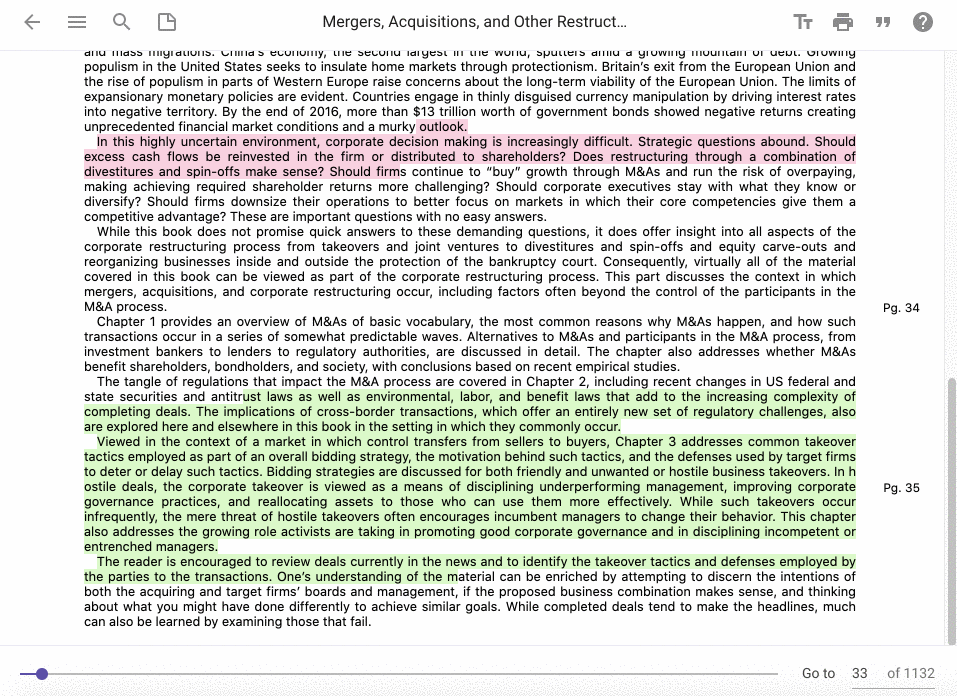 Searching Through Your Annotations
From the annotations side bar you can then search through your highlights AND comments for keywords or phrases just like you would a normal search. The search results will then appear in order of most to least relevant based on keyword.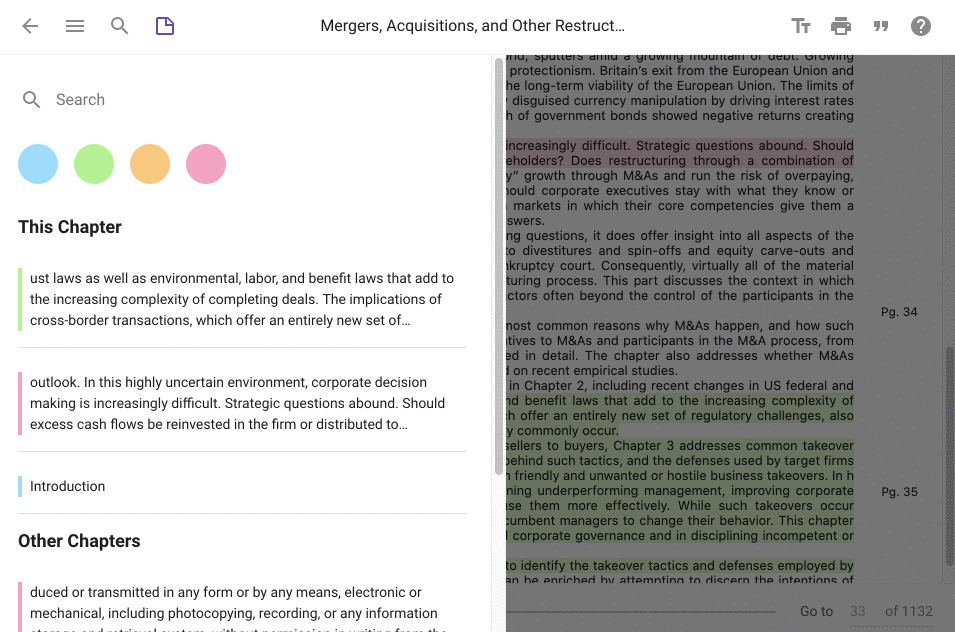 To return back to the View All Screen, simply erase your search query.
Filtering Your Annotations By Colour
If you have been colour coding your annotations in one of our 4 available colours, you can also filter by colour to see all of your annotations in that particular colour.
You can do this by clicking on the colour circle underneath the search bar, that you want to filter by. A small black check mark will appear in the circle that you have selected as confirmation. If you have a search term entered, only those results with the corresponding colour(s) will show.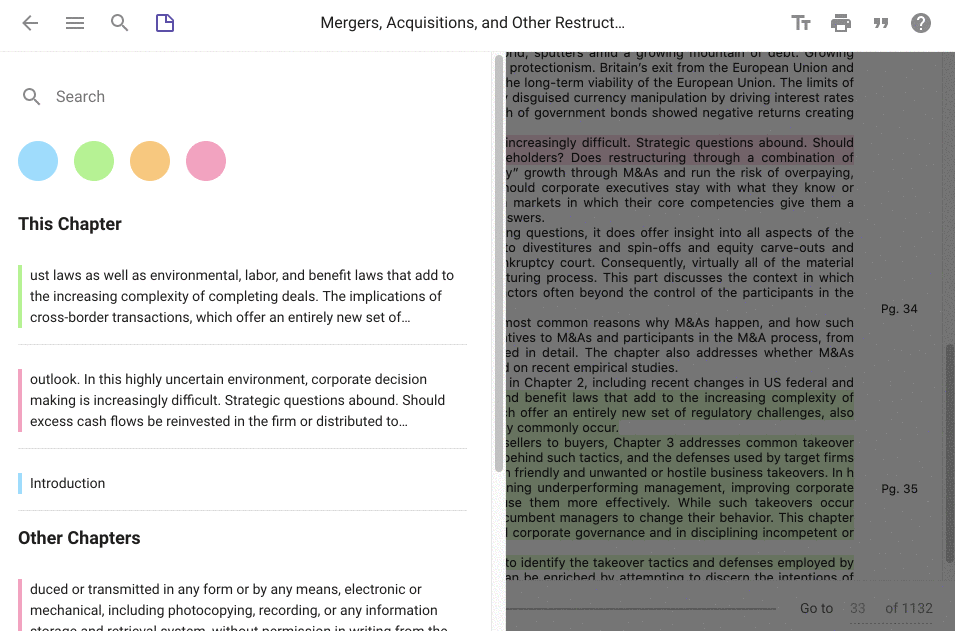 To return back to the View All screen, simply deselect the colour(s) that you have filtered by, by re-clicking on the coloured circle. The little check mark will disappear and all of your annotations will be clearly visible again.
To change colours, simply deselect the colour that you were looking for, and select another one.
You may also select and filter by multiple colours by simply selecting additional colour circles. Any results that match any 1 of the chosen colours will be displayed.
Navigating To The Page Where You Made Your Highlight
To see the chapter or page where you highlighted your text, simply click on the search result and it will load the book page and scroll to the highlight.
Your highlight in the book will appear a shade or two darker for a few seconds to make it easier to identify.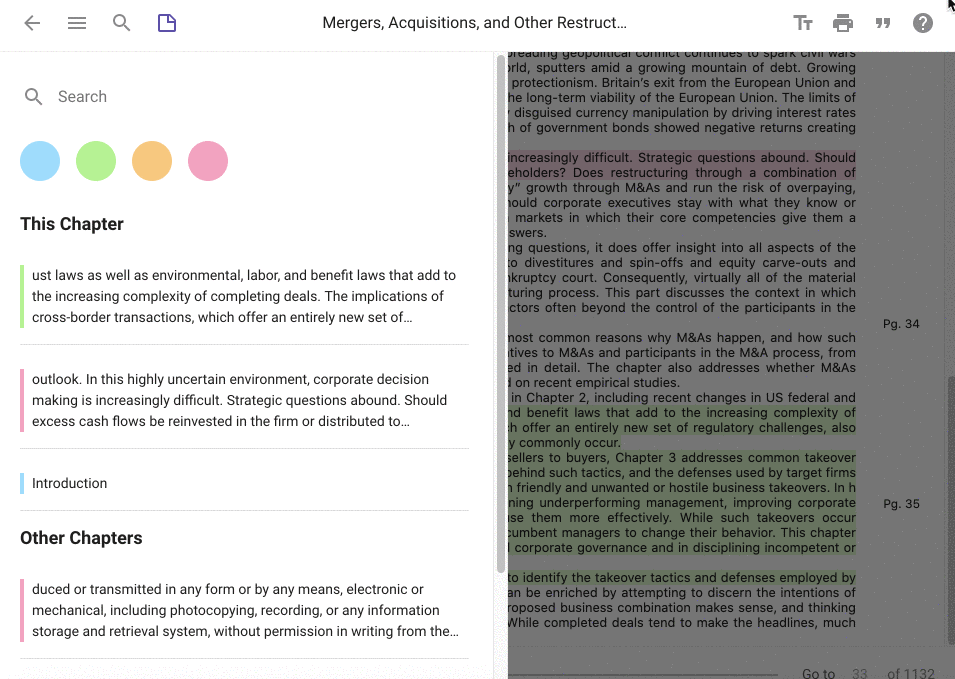 To leave the annotations pane, simply press anywhere (or press ESC) on the window and you will be returned to the contents in your book.
Escalating the Issue
If you are still having difficulties highlighting or annotating your book, you can check this help article: I lost my annotations and highlights.