Video Explainer
Getting set up
You will have been set up with an admin account, using your BilbiU credentials, log into the into the BibliU admin dashboard at https://bibliu.com/admin. Here you will be directed to the Library Report page of your dashboard.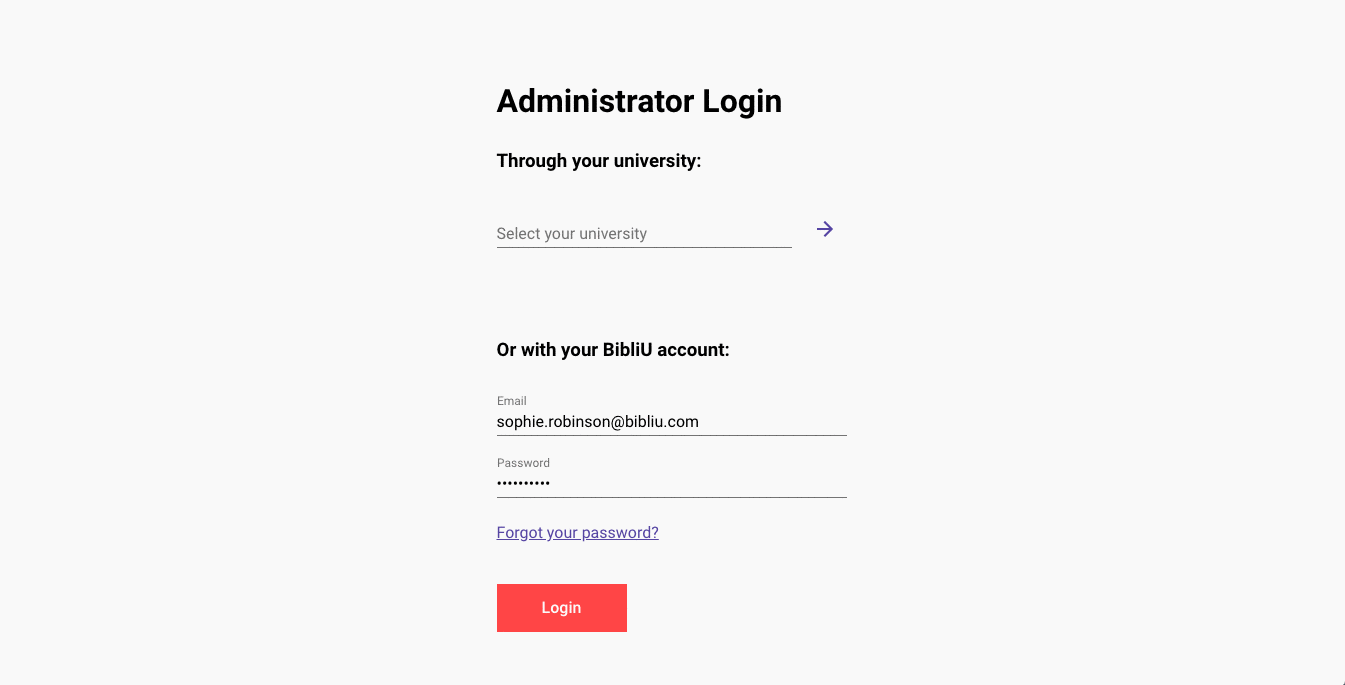 Dashboard Controls

Undo/Redo
Undo or redo the most recent operation (such as drilling down, or changing dates)
Date Range
Select the target date range, which defaults to the last 30 days on first load
Reset
Reset all filters to their default values
Minimise
Minimise the filter panel upwards to provide more room for the content
Drill downs
A drill down allows you to change the level of detail for a view. To drill down:
Click on the desired title in a supported dashboard
Select 'Drill down to chapter'. The view will update to show chapters on the selected title. Select 'Drill down to page' to view the usage by page for a particular chapter.
In the top right corner, select the up or down arrow to go up or down arrow to go up or down one level of detail (e.g. up to titles, or down to pages).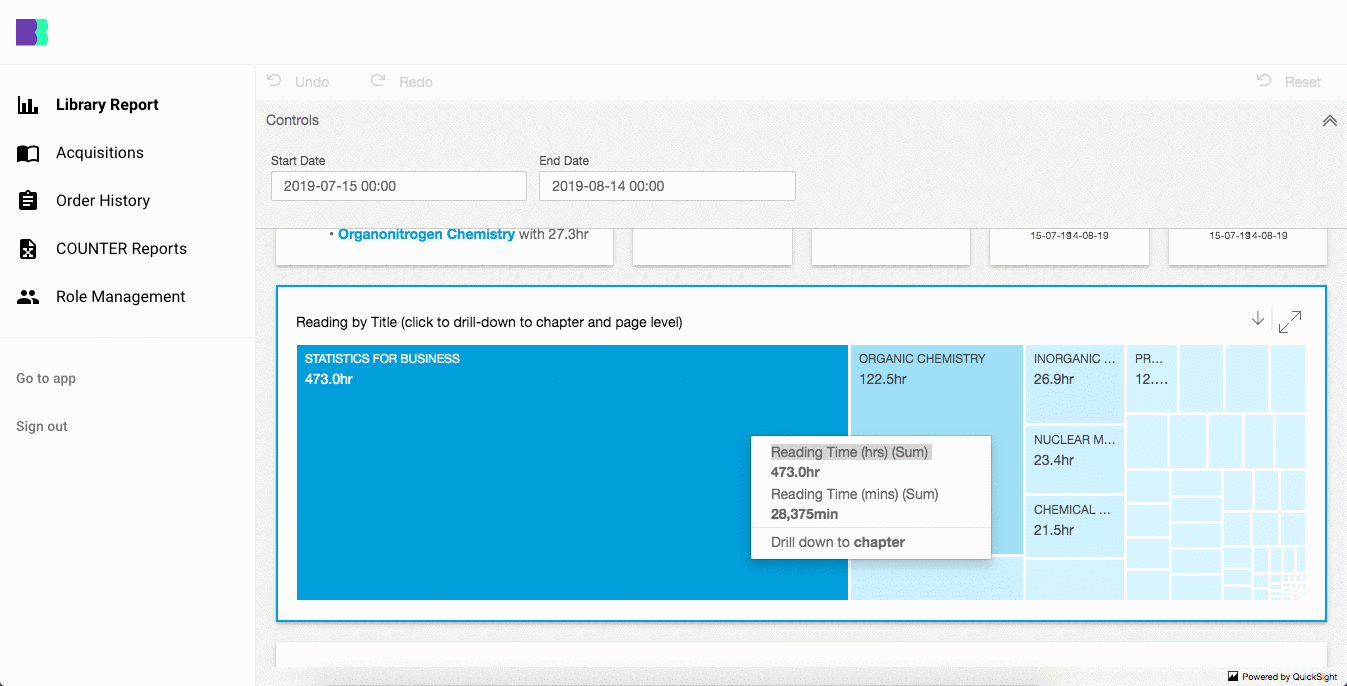 Data Export
Data export is available for all views on all dashboards, and will work for the selected date range (with no limits):
Full (anonymous) data for any view can be downloaded via the download button in the top right of each file

Data can be downloaded in the CSV format (compatible with Microsoft Excel, Google Sheets and, Numbers

This gives your library team full control over our enriched data sources, as well as COUNTER reports.
Data Export Button
Select any view and click the arrow in the top right, then select 'Export to CSV'.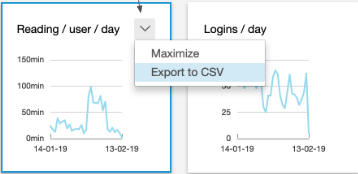 Library Report (Screen 1)

Top titles
Summary of the most read titles for the selected period
Total readers
Number of users who have logged in and operated a book
Total time reading
Total time spent by users in the reader
Reading time per user
Average reading time per active user per day
Logins per day
Total number of users active on the platform each day
Reading time by title
This summarises the total reading time (in hours) for each title in your plan.
Library Report (Screen 2)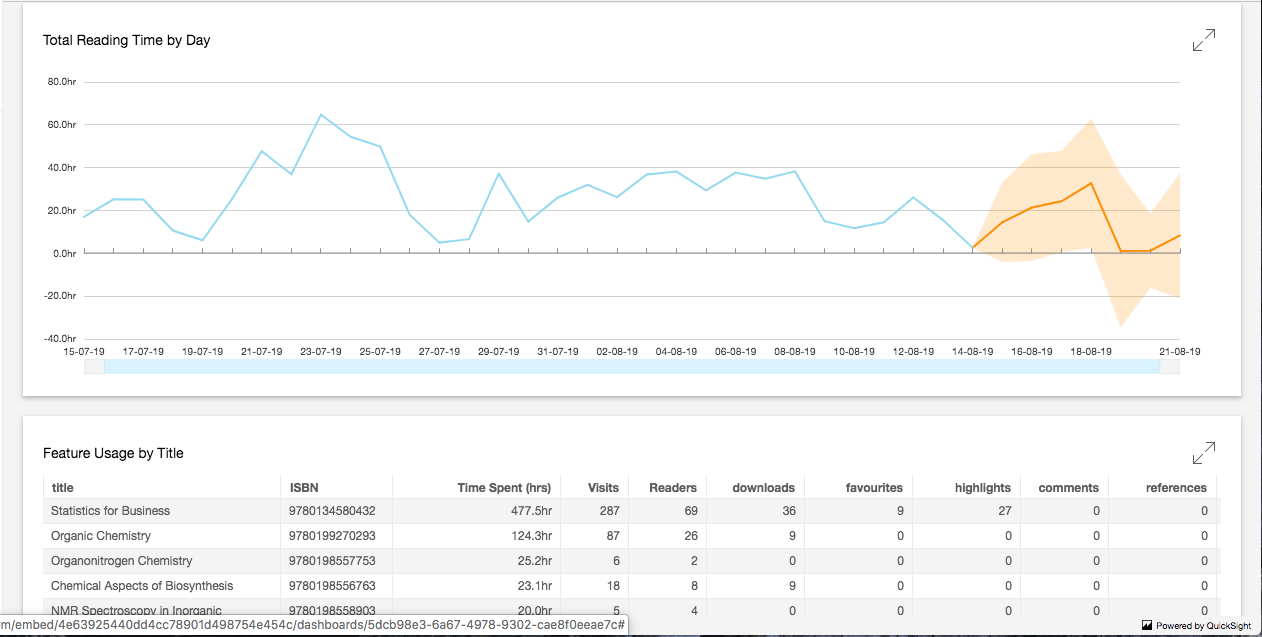 Total Reading Time by Day
Total reading time across all students by day, with a 7-day forecast for future usage
Feature Usage by Title
Summarises the use of features (such as favourites, downloads, and highlights) for each book, as well as high-level usage stats for the selected period
Library Report (Screen 3)

Contracts
Summary of existing contracts with BibliU, including ISBN, start and end dates, number of FTEs, digital textbook format, and other details. Our demo university doesn't have any contracts, but you will!